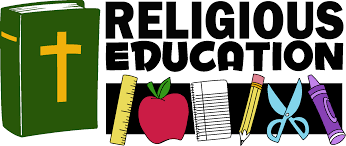 Classes are offered for children in grades 1 through 8 on Wednesday evenings from September through May. St. Lucy is the only parish that offers classes on Wednesday evenings. The classes run from 6pm to 7:00pm.
First Reconciliation and First Holy Communion take place in second grade. Students must have attended first grade religious education classes to be eligible. Parents are required to attend two parent meetings. In addition to the classroom work, students will be required to complete family related activities.
For more information please contact or Pastoral Associate Susi Kurek at 262-554-1801 Ext. 208
Religious Education Registration for 1st through 8th grade must be done annually. Parents need not be members of St. Lucy in order for their children to attend.
To register, just download the 2017-18 Registration for 1 through 8 grade R.E.  fill it out, and turn it in to the Religious Education office with your payment.
Download the Word Doc. 2017-18 academic year calendar