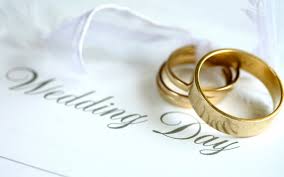 Congratulations to you on your engagement and your decision to celebrate your love within the Sacrament of Christian marriage.  Your wedding is a very special time for you, your families, friends and the entire parish community.  It also marks a new beginning in your relationship.
Here at Saint Lucy Parish we welcome you to celebrate your commitment to each other in an atmosphere of prayer and joy.  In the Sacrament of Marriage, your love is a very powerful sign of God's love present among us—-a mirror of Christ's love for his people, the church.
Your wedding ceremony involves the entire faith community because it calls each of us to deeper commitment to love in our own lives as we together celebrate your marriage.
If you would like to celebrate the sacrament of marriage here at St. Lucy's parish please contact Eric Antrim at eantrim@stlucychurch.org or call/text him on his cell at 262-498-9028
Please note
In order to start the wedding preparation procedure and to save the date, we will need to have $250.00 to cover the fee of the church rental and priest fee.
Weddings should be arranged at least 6 months before wedding date and couples should be registered and practicing members of the parish.