,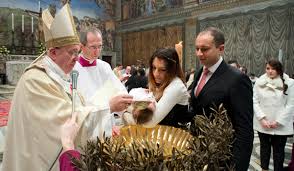 All parents wishing to have a child baptized at Saint Lucy must attend Baptism Preparation Classes before making an arrangement to choose a date for the baptism. We strongly encourage both parents to attend these classes before the birth of the baby.
Classes take place twice a month on a Monday evening at 6:00pm. Call Sarah Amason, 554-1801, x208 for date of next class and/or to sign up. 
The Baptismal Fee of $50.00 should be paid when attending the class. Classes are held 2nd Monday of each month. Please call to register. 
Baptisms take place on the 2nd and 4th Sundays of the month at 11:30am (following the 10:30am mass).
Please keep in mind when choosing godparents ~ at least one sponsor must be a baptized, confirmed, practicing Catholic and it is required that the Sponsor Form be signed and approved by the parish at which the sponsor is currently registered. The sponsor form should be returned to the Parish Office at St. Lucy's at least two weeks prior to the baptism date.